iPhone Mockups - Top 5 Resources for 2021
We present you with the complete collection of mockup resources that you can use to create your perfect iPhone Mockup.
Update November 2021: Apple has launched the iPhone 13 model, which became the primary choice for creating mockups. You can use Previewed to create custom iPhone 13 mockups from scratch (Press 3D blank template). You can also use Device Frames to access free iPhone 13 mockups.
А compilation of 5 different iPhone mockup resources. It includes clay and realistic iPhone variations, flat and isometric perspectives featuring iPhone X, Xs, XR, 11, 12, Pro & Max models.
In the end, we will compare all 5 options by price, customizability, ease of use & style variations. Skip to the end to check out the comparison table.
iPhone Mockups are perfect for demo & presentation purposes. They explain your  product to your audience. Use the mockups for:
App Showcases
Presentation Slides
App Stores
1. Previewed
The list wouldn't be complete without ourselves. Previewed is an innovative 3D Editor, which helps your create eye-catching mockups for your app presentations.
Access 100s of pre-made iPhone mockup templates by Previewed. These mockups are fully customizable - you can tweak colours, rotate the iPhone in 3D, add extra phones, shadows, text animations, custom elements and more.
I also wrote a tutorial on how to create iPhone mockups, which I suggest to read if you go with this option.
Pros:
Online & Free (No software or plugin required)
Full customization (End-to-end 3D editor)
Ability to animate mockups
Cons:
Learning curve to familiar with the editor
Free plan allows 3 download per day
2. MockupWorld
MockupWorld has wide selection of free, fully layered, easily customizable, photo realistic PSD iPhone Mockups.
Designers submit their mockups to benefit the design community as a whole. You get free access to professionally made templates, making it an ideal collection to browse.
Pros
Rich selection of mockups
Professional look
Good for users familiar with PSD & Sketch
Cons
Too many ads on site
Requires you to know (and have) Photoshop/Sketch
3. Ls Graphics
Ls Graphics has a collection of Apple iPhone mockups for commercial and personal projects in Photoshop, Sketch and Figma formats.
Ls Graphics seems like a premium choice - the mockups look pixel perfect, but come at a steep price tag.
Pros
High quality, high-res mockups
Professionally made
Animated mockups
Cons
Limited free range / Expensive premium options
Requires additional software (Photoshop / Sketch)
4. DesignModo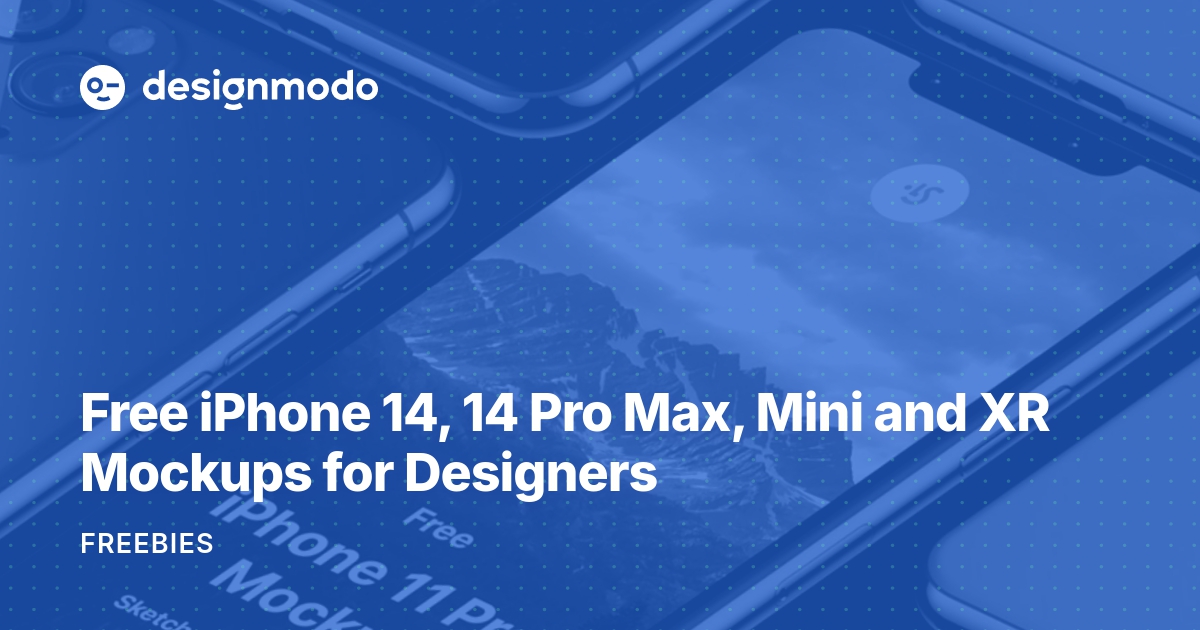 A resource for more resources. DesignModo put together a set of mockups in vector format that you can download and start using in your projects.
This iPhone presentation kit has hands holding phone, multi-device, mockups without device framing (stand-alone screenshot), textured, isometric and other mockup options. It has been thoroughly selected, resulting in minimal repetition and unique styling.
Pros
Unique features - hands & custom elements
High fidelity & modern feel
Animated mockups
Cons
Limited free range / Expensive premium options
Requires additional software (Photoshop / Sketch)
5. UX Planet
UX Planet shared 36 mockups that you can download and start using.
Some of the mockups are for old iPhone models e.g. iPhone 6, 7 & 8. I doubt you will be using them, but nevertheless, we share this resource for completeness.
Pros
Mockups for older iPhone models (6,7 & 8)
Contains a list to other mockup resources
Regularly updated
Cons
Nothing new compared to the options listed above
A lot of promoted mockups are paid
Comparison Table
In the table below, we compare the resources by 5 key criteria:
Price - this is very subjective, with full scores given to free resources.
Ease of use - this metric is split into 2: for beginners and for designers. Beginners have no prior experience with design tools.
Customization - given a mockup, how easy is it to customize it. For example, replacing the screen placeholder, changing phone colour, angle etc.
Mockup variations - some resources cover a wide range of styles - with device frame, without it, realistic setting, on a table etc.
Software Required - do you need any additional software or plugins.
| Resource | Price | Ease of use | Customization | Mockup Variations | Software Required | Final Score |
| --- | --- | --- | --- | --- | --- | --- |
| Previewed | 8/10 | 5/5, 5/5 | 8/10 | 5/10 | No | 8/10 |
| MockupWorld | 10/10 | 3/5, 5/5 | 4/10 | 6/10 | Yes | 7/10 |
| LS Graphics | 4/10 | 4/5, 5/5 | 5/10 | 9/10 | Yes | 6/10 |
| DesignModo | 10/10 | 3/5, 5/5 | 5/10 | 10/10 | Yes | 7/10 |
| UX Planet | 6/10 | 3/5, 5/5 | 4/10 | 3/10 | Yes | 5/10 |
Conclusion
Creating iPhone mockups is vital for every digital business and hopefully, now you know the best sources that will make your app promotion a breeze.
On this note, we end this guide, but suggest to check out our blog for more app marketing tips & tricks.
This article is constantly monitored & updated, so feel free to get in touch to suggest new resources.